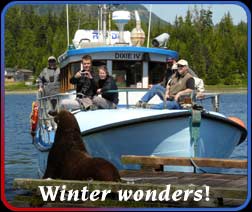 SUNSET CRUISES
Broken Group Islands
Adult: $99 Child (4-12 yrs.): $79 (3 & under): $59.00
or Harbour Sunset Tour
Adult: $69 Child (4-12 yrs.): $49 (3 & under): $29.00
Sunsets here are glorious and each one is different. This trip is a photographer's paradise featuring low-angle light and no crowds. Departure is timed to get a sunset near the end of our tour. On the longer trip, whales are possible, but not likely. Island scenery, eagles, sea lions, seals, winter sea birds, and of course the sunset, are the main highlights of this cruise.
DISCOVERY (zodiac): 3 hour Broken Group Islands or 1.5 hour Harbour Tour
DIXIE IV (cruiser): 4 hour Broken Group Islands or 2 hour Harbour Tour
November to February – Afternoon departure time varies with sunset time.